This year, we at Warrington BID wanted to make sure you were in your festive feels nice and early in the run-up to Christmas! That's why, on the 1st of December we brought you our 12-day giveaway, announcing a new prize every day with a total of 12 prizes.
We have hand-selected these amazing gifts from different businesses in the town centre. What better way to support our local businesses during the Christmas period!
Here we go, it's time to reveal our 12 winners…
A pair of tickets to Warrington Wolves: Liam Widocks
Six-month Livewire membership: Louise Collins
White Hart cocktail tree or £50 voucher: Cherri Wright
Family ticket to Cineworld: Thomas Barnes
£50 restaurant voucher: Kiel Hilllman
4 tickets for Snow White at the Parr Hall: Shauna Duffy
Bold Street Christmas hamper: Michelle Hayes
£50 Kemp & Collins hair voucher: Clare Ratcliffe
2 tickets to Burns Night at Mamars: Neil Evans
£150 Golden Square voucher: Caroline Jones
The Grand's Beatles tribute night: John Ashton
Nintendo Switch plus Mario Kart worth £250: Claire Speak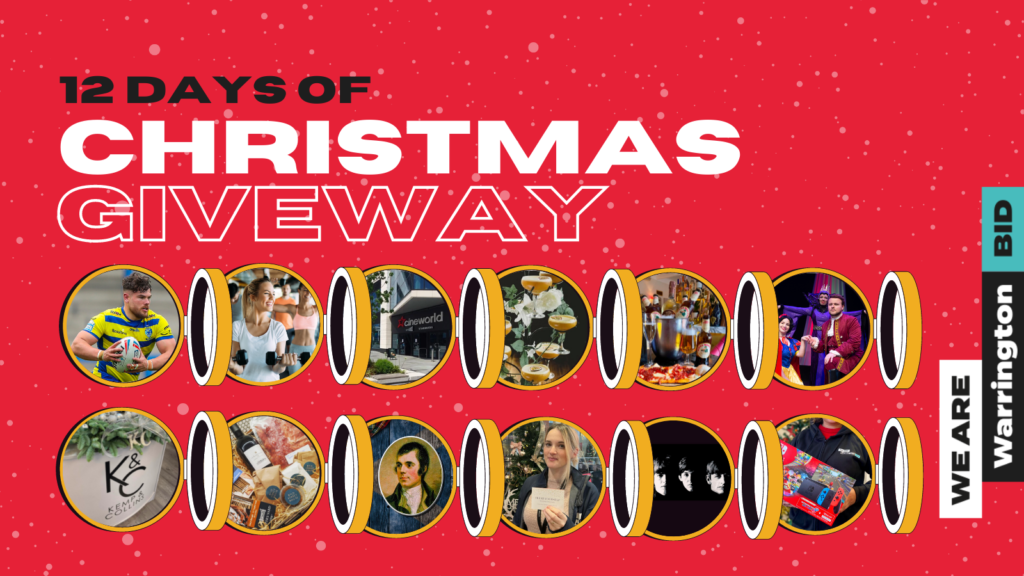 If you have taken part in our giveaway and you are not listed above, then don't worry – there will be plenty more giveaways in the New Year. Shop safely this Christmas! We are still living with COVID-19. Wash or sanitise your hands regularly, keep your distance from others where you can, take regular symptom-free tests, get vaccinated and wear a face mask when required please.
Make sure you are keeping up with us on our socials:
Facebook – @WeAreWarrington
Instagram – @WeAreWarrington