Our lives have all changed drastically since the Pandemic hit in March 2020. The world stopped spinning and for what we thought would be short lived, we all adapted to a new and safer way of living! Fast forward two years and lots has changed with some routines and habits never returned to.
We forced ourselves into living online because in most cases it kept us Covid-free! We saw Amazon sales rocket overnight. What we didn't see was our town centre abandoned, the atmosphere sucked out of it, with the shutters going down and no idea when or if they would ever come back up. Our bus routes paused and when you did see one, they carried key workers not shoppers.
So, here we are! In 2022, trying to rebuild ourselves in Our Warrington, Our World. Getting back to the town centre and shopping independently. Having the freedom to pick items that we want and not what Amazon tells us is a best seller, being able to try on and touch items, chatting to the shop workers, meeting a friend for a coffee, watching a show, supporting the local independents, and importantly keeping our pound in our town!
But our work isn't done yet! We're still not there! This new way of living has seen us travel and commute differently. No longer are we jumping on the train or waiting for a bus, we're all too eager to use our own four wheels again, congesting the roads, increasing air pollution, and creating more smog for us all to breathe in.
Well Warrington, let's make a change together. It's an exciting time to be travelling with so many places to visit and enjoy across the town, why not sit back, relax, and let your own local bus company take you there.
Warrington's Own Buses
This company have provided safe, clean, quality bus services for local people since 1902 and they are still going strong.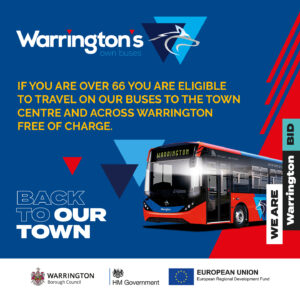 If you are over 66, you are eligible to travel by bus to the town centre and across Warrington free of charge.
Click here to apply for your bus pass or renewal.