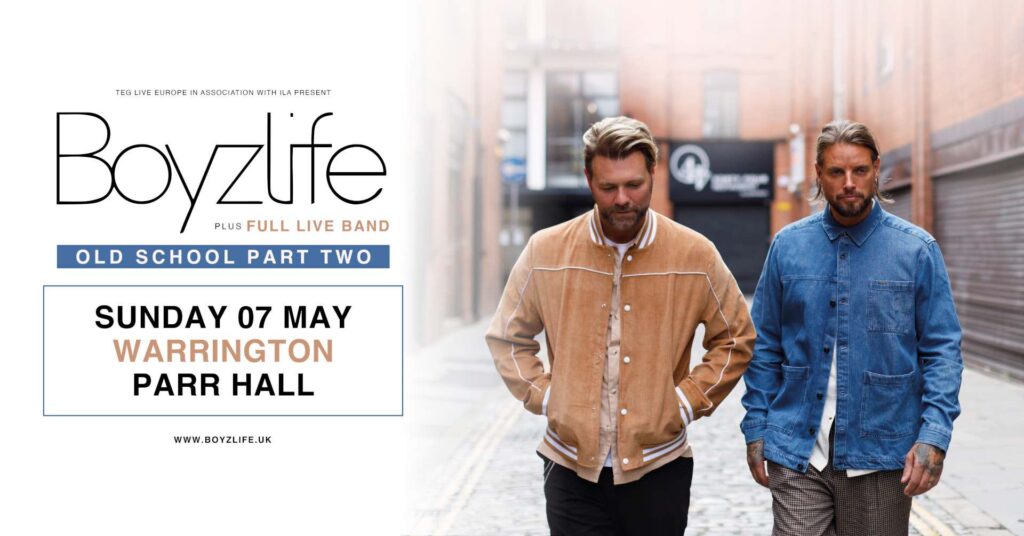 Boyzlife, Sunday, 7 May, 7.30pm. Tickets from £30
Parr Hall, Palmyra Square South, Warrington, WA1 1BL
Tickets and information 01925 442345 www.pyramidparrhall.com
Boyzone's Keith Duffy and Westlife's Brian McFadden are once again teaming up for an evening of chart-topping hits and 90s and 00s nostalgia.
The singers and long-time friends perform under the name of 'Boyzlife' to bring back to life their classic hits such as No Matter What, Love Me for a Reason, Flying Without Wings and My Love.
Keith and Brian, who were both born in Dublin, also bring to the stage newly written songs from their original material album, Old School, which was released last year.
The Irish pop duo will be taking their show on the road with a full band in May and they will be returning to Warrington's Parr Hall on Sunday, 7 May.
Keith Duffy caught the eye of Louis Walsh in 1993 when he was putting together Boyzone.
Initially performing in clubs and pubs across Ireland, the band released a few popular covers before their debut album, Said and Done, arrived in 1995. Three more hit albums followed – 1996's A Different Beat, 1998's Where We Belong and 1999's By Request.
By 2000, Boyzone had sold 13 million records and became the first Irish group to have four number one hits in the UK singles chart.
Brian McFadden became an original member of Westlife in 1998 and remained with the Sligo-formed group until 2004.
During his time with them, the band released four albums – 1999's self-titled Westlife, 2000's Coast To Coast, 2001's World Of Our Own and 2003's Turnaround – that peaked at number one in Ireland, and reached the top two spots on the UK albums chart as well.
Following his departure from the band, Brian released Irish Son, his debut solo album, in 2004 which included the chart-topping single, Real to Me. Several more albums followed including 2008's Set In Stone, 2010's Wall of Soundz and 2012's The Irish Connection.
Keith and Brian teamed up in 2016 and soon began to tour together while merging the musical worlds of Boyzone and Westlife. Boyzlife released their debut album Strings Attached in 2020 where they revisited some of their biggest hits alongside the Royal Philharmonic Orchestra.
Boyzlife perform at Parr Hall on Sunday, 7 May. Tickets go on sale on Friday at 10am. Visit parrhall.culturewarrington.org or call the Box Office on 01925 442345.