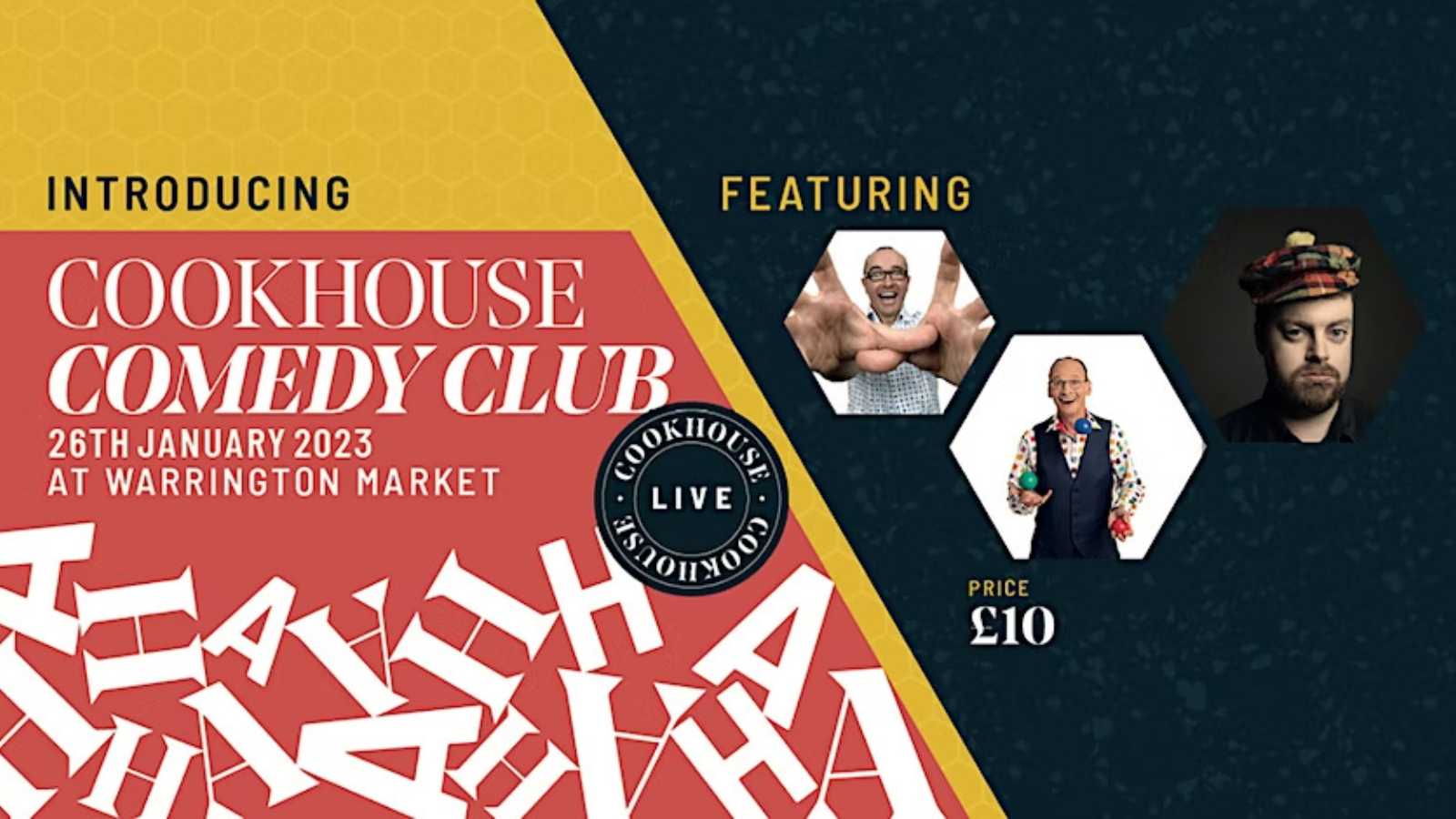 Cookhouse Comedy Club
Warrington Market Presents
Cookhouse Comedy Club – Thursday 26 January
Warrington Market, 2 Time Square, Warrington, WA1 2NT
Doors 6.30pm | Show 8pm
Price: £10
Attendees must be 18 or over, seats are available on first come, first served basis.
Acts On The Night
Steve Royle
Britain's Got Talent 2020 top three finalist, comedian, juggler and variety star Steve Royle spent many years supporting the likes of Peter Kay, Dave Spikey, Mick Miller, Roy Walker and The Lancashire Hotpots on tour. He is a regular television 'warm-up' for programs such as "The Rob Brydon Show", "A Question Of Sport", "Mastermind", "The Price is Right" and has several television appearances to his credit including "Phoenix Nights", "Max And Paddy's Road To Nowhere", "Peter Kay's Britain's Got The Pop Factor…". He was also featured on the Granada Programme "Behind The Scenes" and "That's Entertainment" (with Cannon and Ball) and was voted "Entertainer of the Year" at the inaugural Red Rose Awards.
"You're naturally funny, end-of-the-pier British which is what I like." Simon Cowell
"You're the heart and soul of [Britain's Got Talent] because you come out and make everyone smile." Alesha Dixon
"I adored this act, it felt fresh and it felt polished." Amanda Holden
"A Brilliant Comedian." Peter Kay (in his autobiography "Saturday Night Peter")
"Fantastic…should be a star!" Dave Spikey (in his autobiography "Under the Microscope")
"a comedy masterclass!" The Stage
and
Kevin Dewsbury
Kevin is from Cheshire, though often mistaken as being from Yorkshire due to his ridiculous northern accent. He performs stand-up comedy all over the UK and overseas
His material ranges from storytelling, observations and one liners. He's also great at mimicking accents and he even sings sometimes too
He has appeared at the Edinburgh Festival in sell out shows to critical acclaim.
Kevin is also an actor recently appearing as a Circus Clown in Martin Scorsese's film 'Hugo' and plays 'James' in the television advertising campaign for Stanjames.com.
"Slickness and sheer talent" Time Out
Hosted by Bren Riley
There's nothing bland or predictable about this stand-up comic. Brendan's Liverpudlian accent and lively blend of anecdotes, gags and inspired improvisation brings a refreshing blast of cheerful North Western humour and makes him a sought after headline act and MC.
Tickets
Just £10 for a full night of comedy!
Food will be available to purchase until 7:30pm on the night from:
https://www.facebook.com/louiespizzawarrington
https://www.facebook.com/freshthaifood
Check our Facebook page for more details.
Attendees must be 18 or over, seats are available on first come, first served basis.