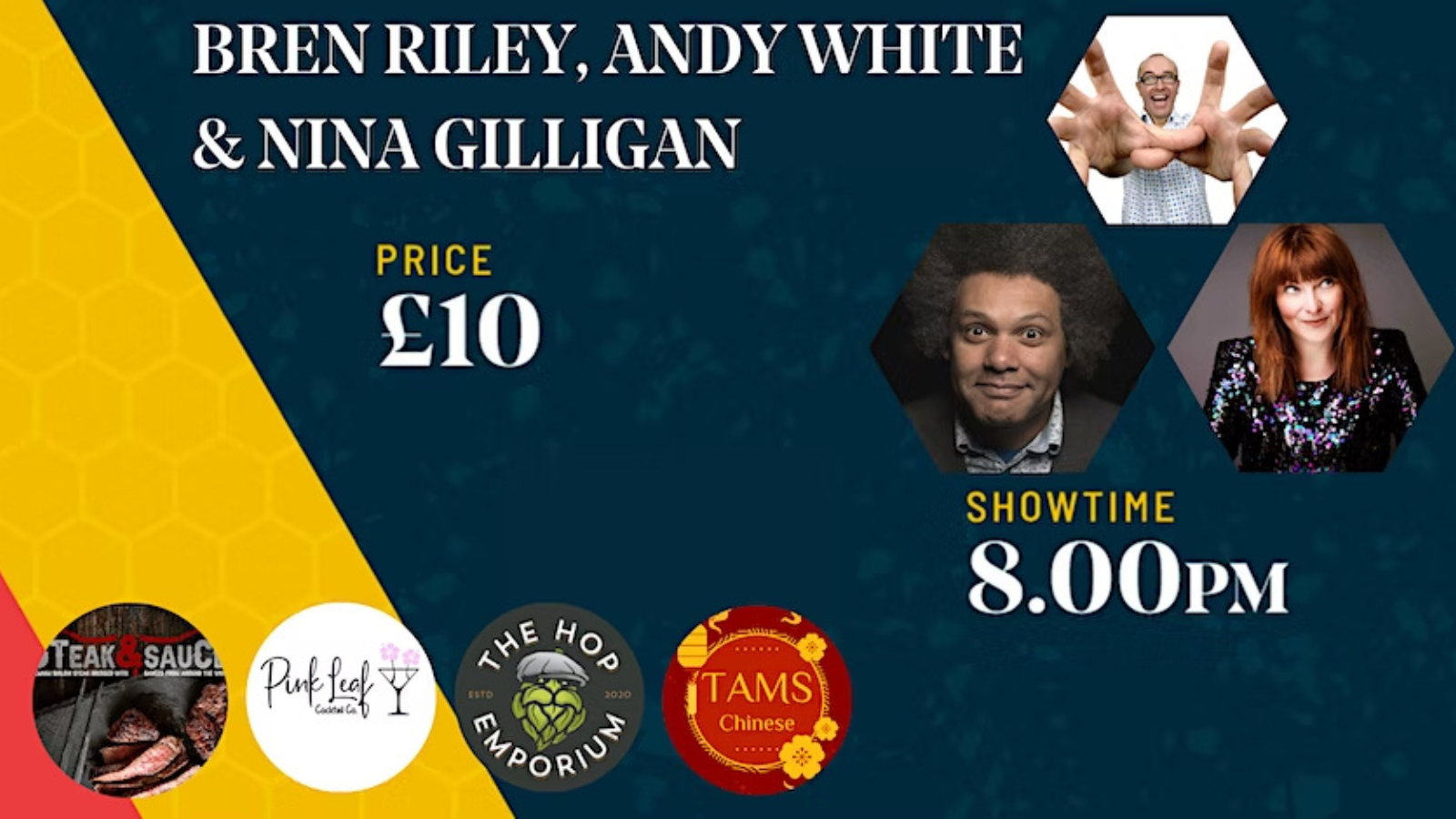 Cookhouse Comedy Club
Warrington Market Presents
Cookhouse Comedy Club – Thursday 20th April
Warrington Market, 2 Time Square, Warrington, WA1 2NT
Doors 6.30pm | Show 8pm
Price: £10
Attendees must be 18 or over, seats are available on first come, first served basis.
Acts On The Night
Nina Gilligan
Nina Gilligan is sometimes outrageous, always hilarious with a charming, loveable persona which belies an acerbic wit.
Equally at home in clubs as art centre's Nina is opening, closing, and hosting gigs up and down the country.
A star on the rise Nina is now a multi award winning comedian having recently scooped up the award for Best Act at the Northwest Comedy Awards 2023 as voted by her comedy peers and Best Club Act 2023 at the prestigious Chortle Awards.
2021 saw her crowned as the winner of the prestigious Leicester Mercury Award after also winning Liverpool Hot Water comedian of the year and being a finalist in English Comedian of the Year in previous year's.
Recent work includes a sell-out show 'Late Developer' at Leicester Comedy Festival which is going on to The Edinburgh Fringe 2022 with Just The Tonic. Recent Tour Support includes Jason Manford, Clinton Baptiste and Rachel Fairburn.
Described as 'A Gem of the Circuit' and with an ability to 'Transcend age barriers effortlessly' she continues to rise through the comedy ranks.
"A bolshier Mrs Merton she's not one to suffer fools lightly so watch out for a razor-sharp wit used at will" – The Skinny
"A hidden gem of the Circuit" – Kiri Pritchard McLean
"Brilliant, an outstanding comic" – Toby Foster (Phoenix Nights)
"Jonny Vegas meets Joan Rivers" – Smug Roberts
"Naturally funny" – John Thomson (Cold Feet)
and
Andy White
Andy is a loveable Brummie who managed to escape from a call centre to become a stand up comic.
He combines silly voices and a mad afro to devastating comic effect. Andy's humour embraces silly voices, funny faces, observational humour, topical humour and his mixed race background. He can do material that's clever, cheeky or just plain silly. His performance can shift from deadpan to loud and physical.
He has that unique ability to say naughty things but win you over with charm and an endearing grin.
Andy has played to a wide variety of audiences both at home and abroad from comedy clubs, theatres, universities, Radio and TV shows to corporate entertainment events.
Andy has appeared on the BBC New Comedy Awards (BBC Choice), Brand Spanking New (BBC Radio 7), Vox Pops for Central News, Birmingham (Carlton TV) and The Weakest Link Comedian's Special (BBC1).
'Had me exercising my pelvic floor muscles to avoid an accident!' BBC
'Oozes talent.' WHAT'S ON MAGAZINE
'Undeniably entertaining!' CHORTLE
Hosted by Bren Riley
There's nothing bland or predictable about this stand-up comic. Brendan's Liverpudlian accent and lively blend of anecdotes, gags and inspired improvisation brings a refreshing blast of cheerful North Western humour and makes him a sought after headline act and MC.
Tickets
Just £10 for a full night of comedy!
Food will be available to purchase until 7:30pm on the night from:
Tams Takeaway
https://www.facebook.com/steakandsauce
Check our Facebook page for more details.
https://www.facebook.com/warringtonmkt
Attendees must be 18 or over, seats are available on first come, first served basis.