Warrington, are you ready for the perfect place to eat, drink and play? With a whole host of activities and food and drink, it's your one-stop-shop for a great afternoon or evening out, so get ready to be Social!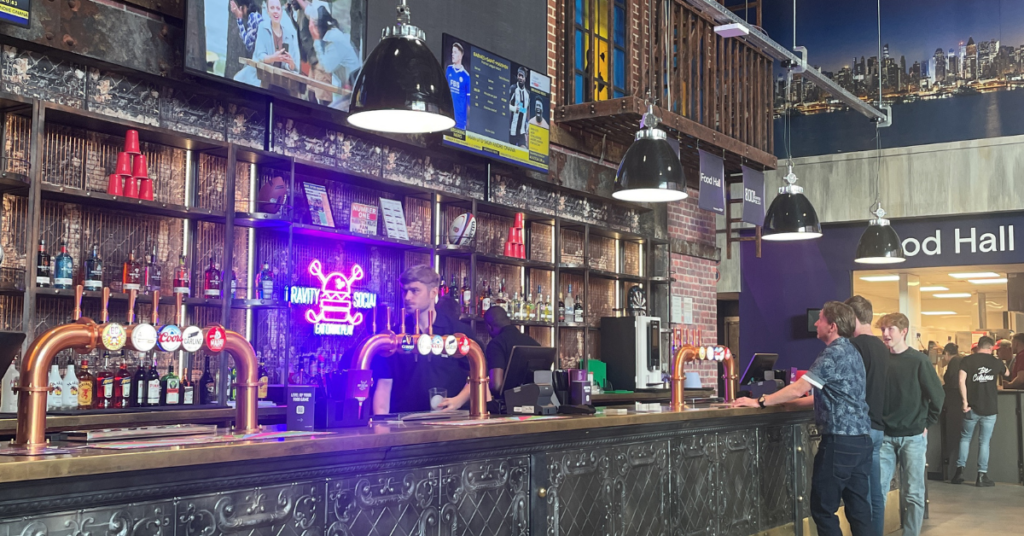 Open daily from 11.30am, call in for boredom-busting family fun, a lively lunch or after work drinks, or weekend adventures with friends with activity combos including darts, shuffleboard and live sport. Plus they're home to weekend live music and regular DJs.
Gravity Social believes having fun matters and we couldn't agree more.
Sample the delights of their fantastic NEW food hall, which will tempt you with food from 800 Degree Pizza, authentic American burgers from Wendy's, and desserts courtesy of Creams, it's a slice of the Big Apple in Warrington's own Time Square.
Stand up if you love the darts
With fantastic digital darts featuring traditional games and futuristic challenges, this is an amazing augmented reality experience to rival those only currently available in bigger neighbouring cities of Manchester and Liverpool. The display guides you through the games on offer – throw by throw – and prices start at just £18 for six people. Gravity Social takes playing darts to the next level, pre-booking is recommended here.
Everyday I'm shuffling
Shuffleboard is the ultimate pub game. If you've never played before, the aim of the game is to try to score points by pushing your pucks to the opposite end of the table, whilst avoiding your opponent pushing your puck out of the game. It's addictive!
Pool games
They have pool tables and beer pong too as well as retro and new arcade games. Pool is one of our favourite ways to unwind although we find we only usually play on holiday, so this is a welcome treat for us. Why not challenge your work mates to an after-work game of 'Winner Stays On' for either pool or beer pong.
Don't forget there's also Gravity Trampoline park which is perfect for kids and big kids alike to burn off some energy, they have many offers here.
TV times
They will be screening all the biggest and best sporting events, including the FIFA Women's World Cup, Premier League football, cricket, rugby and golf.
In our humble opinion, Gravity Social is exactly the type of rainy-family-day or fun-night-with-friends that Warrington needs, breathing new life and fun into the town centre. Why not catch one of Warrington's own buses into Town or park in the nearby Time Square Car Park? Gravity Social has created around 20 new jobs locally, as well as giving existing, new and emerging talent the opportunity to showcase their skills on the stage in the live music and DJ sets.
With SO much on offer, it's like Times Square landed…in Time Square!