Pause.
Yes, you – just pause for a moment and think about the last time you stepped out of your busy life to take time for yourself – it doesn't happen often does it, not often enough.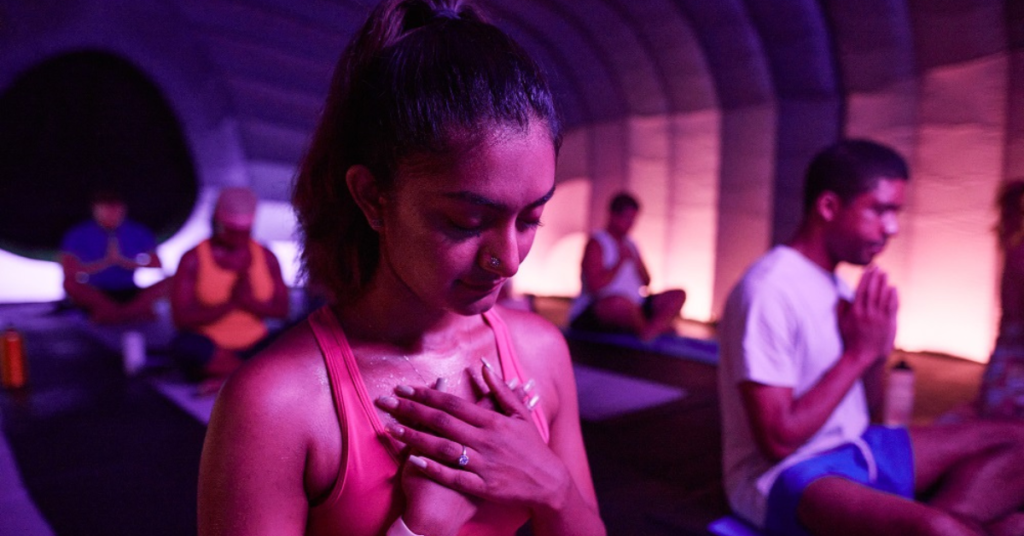 At the We Are Warrington offices, we were delighted to hear that Hotpod Yoga is coming to Time Square soon, a welcome addition to the town's leisure sector. Mental Health is so important, never more evident in the aftermath of the global pandemic and all the challenges that brought; the addition of a town centre Hotpod Yoga facility really does add a new dimension to self-care in Warrington.
Whether looking for a moment to pause, or to re-energise your body, allow us to introduce you to Hotpod Yoga's benefits; whether new to yoga or an experienced practitioner (we fall into the former category), there's something for everyone with Hotpod yoga which is a multi-sensory experience with soft lighting, soothing sounds, and aromatic scents, wrapping you in a comforting 37 degree heat. This is literally in a hotpod, large enough to comfortably house the classes whilst wrapping you in a cocoon of calm.
It's good for your; mind, body and soul.
Some people leave Hotpod Yoga feeling energised and ready to face the day, some simply leave feeling calm and relaxed; however you leave, consider gifting yourself this time to give you a moment of calm. A Hotpod Yoga session can also work well to complement all manner of sports training, including rugby, football and netball. So if you're a member of a team, why not book your team into a class when they open later this year?
Speaking to Warrington Borough Council, Stuart Lawton, Director at Hotpod Yoga Warrington, said: "I'm proudly Warringtonian and think the Time Square development is a fantastic addition to the town, so I'm delighted to be moving in with Hotpod Yoga.
"Yoga has benefits for absolutely everyone, and we want to show how yoga can benefit your life and improve your wellbeing. The darkened, cocooned environment of the pod helps people to reach calmness more quickly, and the heat means everyone gets a proper workout as it gets your heart pumping and helps you to stretch.
"We really believe that anyone can take up yoga, and our instructors will lead classes that are accessible and designed to fit in with your day. Get ready to see lots of happy, glowing faces spilling out onto Time Square very soon!"
We feel the addition of this business to our local business community further cements our town centre as a desirable go-to destination. You can find out more about the sessions here and give them a like and a follow on their Facebook page for their latest news.