Bringing the Balearic Beat to the Northwest for the third year running, Ibiza Symphonics is an assault on the senses, and delivers the White Isle to you in Warrington's iconic Old Marketplace.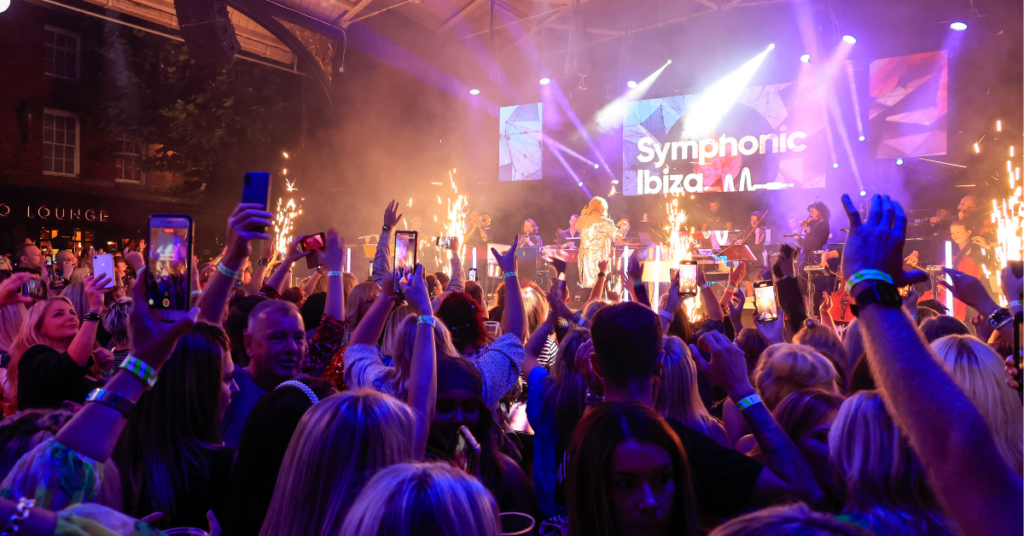 Whilst you may hanker for the closing parties of Café Mambo but find your budget is more Callands, Symphonic Ibiza brings all the iconic Ibiza dance anthems to life, with the backing of a full LIVE orchestra. If you haven't experienced this yet, you are in for a treat.
With live DJs, immersive visuals & captivating vocals too, this is THE official summer closing party for Warrington and is guaranteed to be one of the town's biggest parties this year. If you've ever experienced the thrill of Ibiza's vibrant club scene, relive the soundtrack to your youth with an unforgettable evening of live music.
What?
For newcomers to this event, Symphonic Ibiza fuses a thrilling 22 piece live orchestra with high tempo beats from renowned club DJ Andy Joyce. Andy's roots are steeped in Ibiza's history with residencies at Ibiza super-clubs Pacha, Amnesia, Eden and Café Mambo, and the Symphonic Ibiza show is directed by musical genius Steve Etherington. Together, they'll perform a mash-up of all the iconic Ibiza dance classics, then you can catch one of Warrington's own buses (or the train) home.
The light show contains flashing bright lights and is filmed for posterity, if you were there last year you might find yourself featured in the promos for this year, a fantastic memory of an unforgettable evening.
When and where?
The event is on Saturday 16th September 2023, and starts at 6pm. The iconic anthems will continue until 11pm. The Old Marketplace, in Golden Square is mainly under cover, although it is advised you keep an eye on the weather and dress for the day.
How much?
Ticket prices have been frozen at 2022's fee of £22pp plus VAT and a booking fee, and whilst there is unreserved seating at the rear and side of the venue, all tickets are standing only. The event is accessible to wheelchair users and if you need a dedicated disabled area, you can source this by getting in touch with the organisers. Whilst you can pay on the door, booking is highly recommended as tickets are selling fast. Booking is through Eventbrite, and you can find more information on the event here; Symphonic Ibiza 2023 + Special Guests
So if you missed out on Creamfield tickets or are feeling the festival blues now Neighbourhood is done for another year, don't get Amnesia and forget to buy your Symphonic Ibiza tickets. Why not return to Eden, reignite your Pacha and go Café Mambo for the entertainment that's on offer, right on your Warrington doorstep.
"Symphonic Ibiza is a fusion of classical and contemporary music that will take your breath away."