Warrington Ethnic Community Association or WECA is hosting a one-day event on August 14th, 2022, 11am – 5pm on Palmyra Square. The event is named MELA, which comes from Sanskrit "to meet" and is related to "Milana".
One of the organisers Cllr Mo Hussain, General Secretary of Warrington Ethnic Communities Association WECA said:
"The last Mela was held in 2019 when we saw more than 2000 people attending the event. We are hoping to see a bigger turnout this year. People attending this year's Mela can expect to see a fantastic line-up of Bollywood singers, bhangra dancers, South Indian drummers, magic henna tattooing, a colourful parade, and of course, the spicy aroma of world food prepared on site for everyone to sample, as well as so much more.
Also, many different local and regional service providers, including the police and fire service will be holding information stalls. It is really pleasing to see this event being supported by so many, including Warrington Borough Council, the community initiative fund, police and crime commissioner John Dwyer and Warrington Bid. A very big thank you to Warrington Bid for supporting us this year ."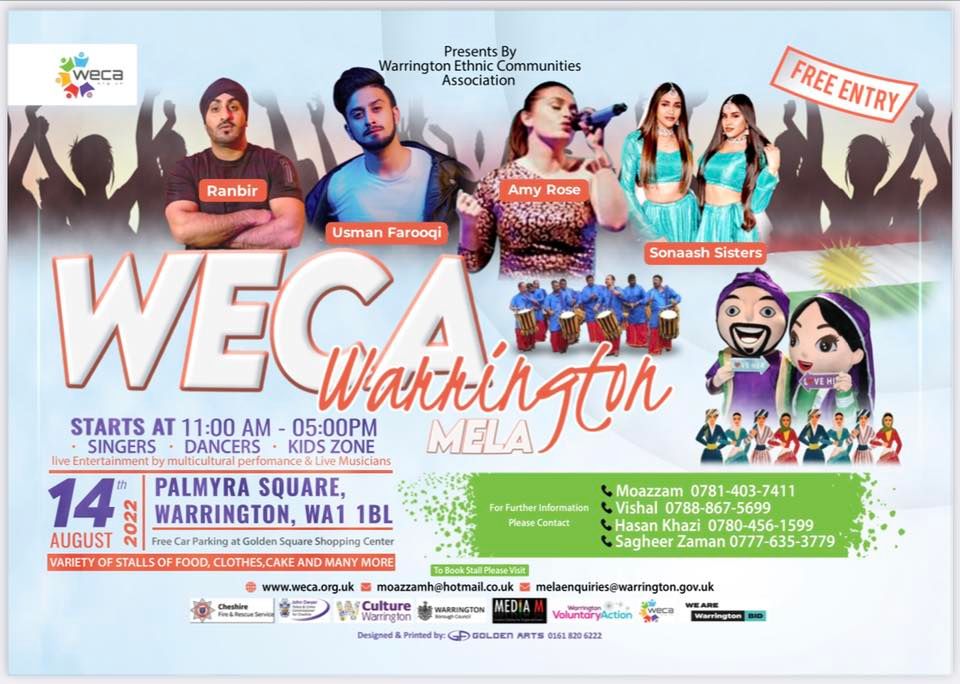 What is a MELA?
MELA's are traditionally an Asian celebration, but WECA is breaking away from this to celebrate the rich and diverse cultures of Warrington. It is also an opportunity for various ethnic communities to come together and share common values within the wider Warrington Community.
The communities will bring traditional food, entertainment, and traditional culture. This is one of the largest ethnic festivals of its kind in the area. The stall holders and entertainers are from all around the North West, bringing their fans and followers, which is fantastic for the Warrington economy in general.
This year, WECA hopes to see the most significant number of visitors ever as they include the Hong Kong community in the event after the rise in the population of people from Hong Kong moving to Warrington.
Due to the pandemic and the difficulties over the last few years, Warrington is excited to see WECA return with their MELA 22. At We Are Warrington we wanted to ensure that this festival returns to Warrington! Everyone who goes once comes back year after year. So we'll see you there?
For more information, visit: https://www.weca.org.uk/mela