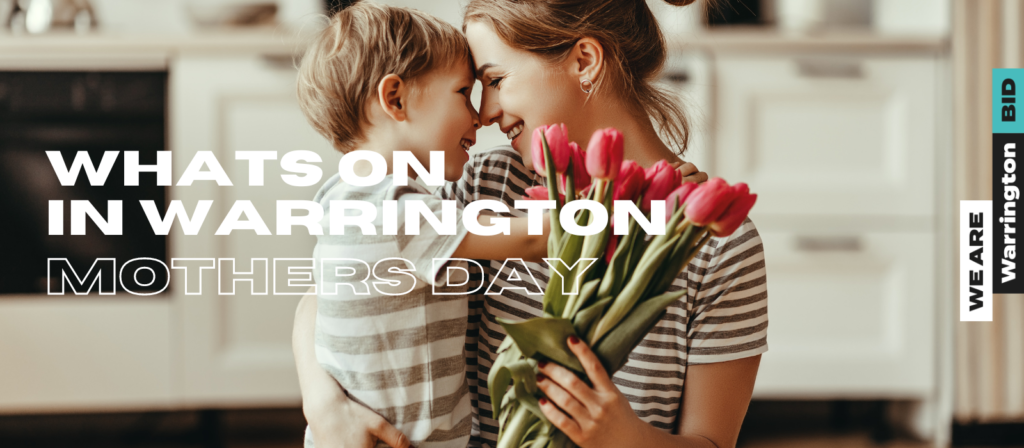 Sunday 19th March is Mothers' Day in the UK and today's blog explores the best place to take that special person in your life; for the purpose of this blog we'll call her mum, but by that we mean all the mums, step-mums, grandparents, nanas, aunties, foster parents, and also dads putting in a double shift.
Spoilt for choice
So where is best to take your mum for Mothers' Day? We've had a think about a few alternative Mothers' Day treats in Warrington to give you a bit of inspiration. Why not start with a walk in the park, especially as Bank Park has so many lovely spring flowers in bloom; if the weather is fine, you could pack a picnic, take a blanket and chat and chill the day away, the gift of time is so special.
Or if your mum would prefers to be indoors, why not start with a walk in the park or even a plod around Palmyra Square where you could join the Sunday Roast Club at Bold Street House, just £28 for a sharing platter roast, or book an afternoon tea in Grill on the Square. Just around the corner, Emily's bar has a lovely covered heated terrace which is perfect for if your mum fancies al fresco dining without the al fresco chill. Counter's at The Parrs Bank is also open to mums, Sunday March 19th 1:30pm in the Grand Banking Hall. A spectacular Afternoon Tea with live music, prosecco or beer and canapés on arrival. Just £35 per person or £30 without the arrival drink. £15 for children.You can contact [email protected] to book.
If you're looking for culture in our Cultural Quarter, Warrington Museum and Art Gallery is open 10-4 on Saturdays, or for a blooming beautiful gift you could book mum a course of Art or Pottery classes over at the Blooming Art studios at Academy Place.
Parr Hall has a whole host of shows coming up, there's sure to be one to suit your mum's taste so check out their website.
Making memories
If making memories is more your vibe, you'll find Piero Belmonte Photography on Suez Street, or you could book a family photo session in Bartley Studios on Horsemarket Street; imagine what a wonderful surprise that would be on the day and they're both open at selected times on the weekend too.
Depending on your budget, you could plan a surprise shopping trip into Town with her BFF and give the gift of choice with some spending money – after the obligatory lie-in and breakfast in bed of course – certainly something for her to remember.
Mark it with the Market
Our award-winning Warrington Market has such a lovely vibe and with 11 worldwide food outlets and two independent bars, you'll be spoilt for choice to spoil your mum. Or for those who don't fancy going out, why not visit the market to stock your shelves with fresh produce and treat her to a home cooked meal. You could even cheat a little with a 'home-made' roast from Baker J's!
Time for Time Square? We're incredible lucky to have a town centre cinema in Warrington and a trip to the pics is always a lovely treat, check out their viewing schedule here and don't forget you get eight hours free parking if you validate your car park ticket.
We hope you've enjoyed our ideas as much as we've enjoyed putting them together for you and we'd love to hear from you if you decided to take our inspo.