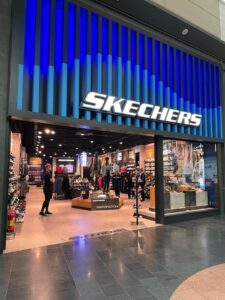 We talk and hear so much about the impact of the pandemic on our high streets, in particular the national retailers we have lost from the high street landscape. Whilst some towns and cities are wrapped up in trying to salvage what they had, Warrington seems to be rewriting our high street and developing an offer that works for the people!
As we walk through the town centre, changes are happening in front of us! The aesthetics of the town are evolving, the offer is shifting, and the new businesses that have chosen Warrington as their new home are what we would expect to see pop up in cities across the UK and further afield.
In recent months we've seen a diverse selection of new businesses set up shop within Time Square, Golden Square and in the quarters across the town centre.
Here's a few that have chosen Warrington as the new home for their business
Geek Retreat
Local resident, Doug Brown has opened the Warrington franchise of Geek Retreat on Crown Street after 20 years working for leading brands in the hospitality and catering industry. Doug is on a mission to share his love for all things geeky – from games and superhero movies to anime and sci-fi. Geek Retreat is the friendliest place to meet, eat, trade and game. Its vibrant venue offers comfort eats, non-stop sunny service and shakes.
Brass Monkey
 The Brass Monkey Sports Bar and Nightclub opened in Cairo Street at the end of April, it is the first of the Hive WA1 offerings and is based in the former Fat Cat Ball Room unit.
Sports, music and live performances do well in Warrington, but the owners are also going to take the venue down the club route. Warrington has seen a gap on the nightclub front since we lost the legendary Mr Smiths. Let's hope Brass Monkey can bring back some nostalgia of the nightclub days of the town centre.
Skechers
All the rumours are true… SKECHERS has officially opened in the Golden Square in May. They are guaranteed to be your go-to shop if you're looking for comfortable yet affordable shoes in different styles.
As a family-focused brand, Skechers was founded to put people first – offering comfort and care to customers. Skechers' shoes are comfortable, supportive and offer fantastic performance.
Located near Costa, the store provides a variety of Men's, women, and children footwear. They also stock clothing and accessories such as bags, sunglasses, and socks.
Jamaica Blue
Another new arrival to the Golden Square is Jamaica Blue, delivering contemporary café dishes with a twist. Their belief is to source the very best coffee and deliver this to the people of Warrington.
 They are located next to Boots, open 7 days a week serving great coffee and food, with their passionate crew of chefs, baristas, and service team.
Their name, Jamaica Blue, is drawn from the majestic Blue Mountains of Jamaica, one of the best coffee producing regions in the world and home to their exclusive Jamaica Blue Mountain coffee. They pride themselves on offering a diverse range of high-quality dishes, freshly made on the premises, and prepared using premium, local ingredients.
Next time you're in the town centre, call in to the latest and greatest coffee in the square.
Capelli Remi
Capelli Remi is renowned for offering a professional, NHS approved wig fitting service in a relaxed and friendly environment where privacy and discretion are key. They provide clients with quality hair at the best price possible.
Specialising in hair, hair loss, extensions & wigs, sourcing products from all over the world. At Capelli Remi, they take the time to research all options available to clients, ensuring they are always up to date with current market trends and providing clients with the highest quality hair at the best price range.
Capelli Remi is now open, opposite Wilko's and has a piercing licence with price range from £22-£140, depending on what jewellery you choose.