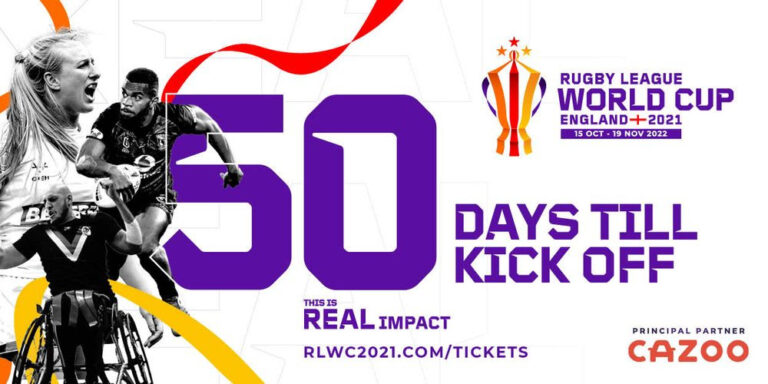 In just 50 days time, the opening fixture of the biggest and most inclusive Rugby League World Cup kicks off at St James' Park in Newcastle – which means there are only 51 days to go until the first game at The Halliwell Jones Stadium!
Having been host to the Samoa team during the 2013 RLWC, we are beyond excited to be a host town once again and have the honour of the Papua New Guinea men's team staying in Warrington.
We're equally excited to have four men's games taking place at our fantastic stadium:
Sunday 16th October – New Zealand v Lebanon
Tuesday 25th October – PNG v Cook Islands
Sunday 30th October – Samoa v France
Sunday 6th November – Men's Quarter Final
Plus we have the added bonus that Warrington's Victoria Park has been chosen to host to the first EVER Physical Disability Rugby League (PDRL) World Cup showcase between 23rd and 30th October, with the final game being played at the Halliwell Jones Stadium ahead of Samoa v France.
With our superb road, rail and bus transport links to the games, getting into our town centre could not be easier, whether you're travelling from a WA postcode or from outside of the Borough. There will be a fan zone, window dressing and civic receptions, all of which will bring a sense of pride and belonging – putting Warrington on the map as a destination to visit. This is our opportunity to show the world exactly why Warrington is such a great, cultural, diverse, wonderful place to live with an amazing sense of community.
The Rugby League World Cup will also bring jobs to Warrington, both paid and voluntary. A huge army of volunteers have applied to assist at RLWC, many are your neighbours in this town. RLWC will bring in income to our hotels, restaurants and bars, to our taxi drivers and fast food vendors, to our shops and our market – after the challenges of 2020 and Lockdown, our town centre will once again be a thriving hub.
Cllr Tony Higgins, cabinet member for leisure and community, said: "Excitement is really starting to build in Warrington, and we can't wait to see the town come alive to celebrate the Rugby League World Cup.
"For the first time ever, we will also be hosting the prestigious Papua New Guinea Men's team and can't wait to give them a big Warrington welcome. We are also excited to witness the incredible atmosphere at a packed-out Halliwell Jones Stadium for the four men's games and the first ever PDRL World Cup Final too."

Rugby League World Cup 2021 Chief Executive, Jon Dutton, said: "We are very excited to be creating such a symbolic and iconic moment in Newcastle as we begin the final countdown to the tournament kicking off in the city on 15 October.
"With just 50 days to go until the biggest, best and most inclusive Rugby League World Cup in history, I am calling on everyone with a passion for rugby league to get involved and become advocates for this tournament to help us make it the greatest tournament in the sport's 127-year history."
We are so proud to live in our town and we hope you are too. We also hope we've given you the bug to get involved, in what has been a fantastic year for sport in our home nation. Make sure you secure your tickets before they sell out by heading to the Rugby League World Cup Website.

Whether you are an existing Rugby League fan or a newcomer to the sport, embrace the excitement of seeing the top athletes compete for the ultimate trophy right on your doorstep!