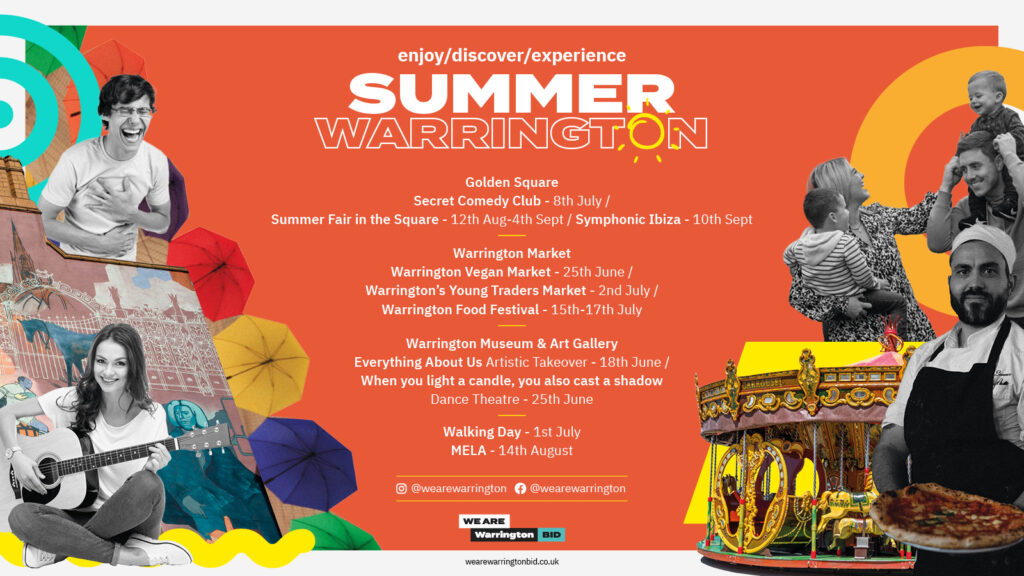 While the sunny skies and warm temperatures do more than make our environment a pleasant place, there's nothing we love more than breaking out those beloved shorts, t-shirts, and dresses so our skin can see the light of day. Not to mention It's the perfect time to get out of the house and participate in activities/events with your family and friends.
So, what's on in Warrington this season? We've put together a list of events on your doorstep for the perfect staycation!
Culture Warrington Events
June 25th – September 24th, Warrington Museum & Art Gallery
The museum first opened in 1848 and is a big part of our town, always hosting unforgettable events and showcasing creative exhibits. Throughout the summer, you will have the chance to visit a range of exhibitions, most of which are free!
Including "When You Light A Candle, You Also Cast A Shadow" on the June 25th, which is a piece about celebrating nature and its resilience. It's a call to awareness about the dangerous state of our climate, our habitat, and our planet. More events.
Warrington Walking Day
July 1st, Warrington Town Hall
This day is always a family favourited and guaranteed to be an exciting day for the whole family. Schools, churches, and community and faith groups will come together from 9am. We just need the sun… fingers crossed! Read more.
Warrington Young Traders Market
July 2nd, Warrington Market
After a successful Warrington Young Traders Market on June 5th, Warrington Market will host the Northwest Regional Final on Saturday, July 2nd. A collection of winners from both the Warrington heat and from across the region will come together for the chance to win a spot at the national finals! Read more.
Secret Comedy Club
July 8th, Golden Square
Although July's Secret Comedy Club has sold out, we can't resist telling you about it as there will be another chance to go on September 30th.
The Golden Square's next Secret Comedy Club is on July 8th, and this headliner is too big to keep behind the door… It's only the Hot Water Comedian legend, Paul Smith! The funny scouse man mixes his trademark audience interaction with more hilarious true stories from his everyday life. If you've seen Paul live before, you'll know what to expect… Hysterics from the start. We can only imagine how excited everyone is for this one.
Summer Fair in the Square
August 12th – September 4th, Golden Square
ROLL UP, ROLL UP! It's time for some good old fashion fun at your favourite shopping centre this season. Complete with fairground rides, coconut shy, hook-a-duck, food & drink and more, head down for nostalgia galore between Friday, August 12th and Sunday, September 4th, and show the kids how summer should be spent! Follow Golden Square for updates.
Symphonic Ibiza
September 10th, Golden Square
Following the massive success of the 1st Symphonic Ibiza, Golden Square, along with HC Promotions have announced the next Symphonic Ibiza on September 10th.
Symphonic Ibiza fuses a thrilling live orchestra with high tempo beats from renowned club DJ Andy Joyce. Their credentials include residencies at Ibiza super-clubs Pacha, Amnesia, Eden and Café Mambo, directed by musical genius Steve Etherington. Get your tickets
Family fun, marvellous markets, arts and culture, al fresco food & drink… there's something for everyone in Warrington this summer. So, check out our events page and follow us on social on @wearewarrington to make sure you make the most of our fantastic season of events and activities.