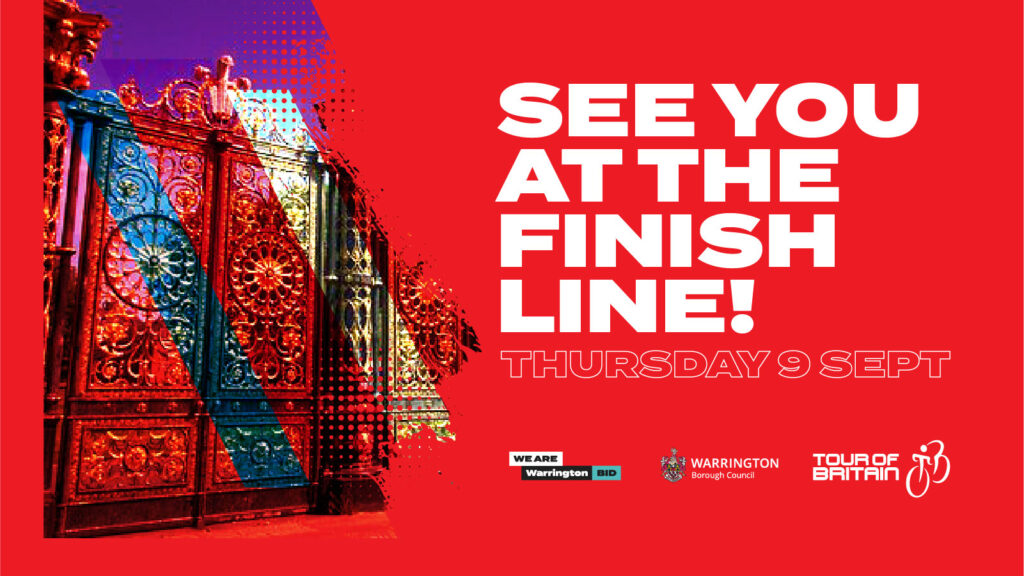 On your bikes, it's time for the Tour of Britain 2021. After the year we've had it's so nice to have a sporting event to look forward to and it's even better than our town centre is heavily involved with it! On Thursday, September 9th, Stage 5 of the Tour of Britain will be starting at Alderley Park, making their way through Cheshire East then heading into Warrington.
We want to make sure that we have the best day in Warrington and make the most of this fantastic event, which is why our amazing businesses have got all sorts of offers lined up and ready for you. Here are the offers you can expect on the day.
Acoustic Café – Coffee & Cake £3.95
Bold Street House – 40p wings and £4 pints!
Caffe Caruso – Any pizza or pasta £7.50
Cinnamon Lounge – Classic deal, poppadum & chutneys, starter and any classic curry £13.95
Dough Dough – 25% off
Efes Brasserie – Early evening diner available up until 8pm – 3 course special £14.50
Gravity – Half price bounces on the day! £6.12 not including socks. Simply say the offer at reception!
Institution – Curry night, Curry and a drink £13.95
Las Ramblas – Any two classic tapas and one contemporary tapas £16.00
Mr Laus 3 courses, 2-6pm, £19.95
New Cod on the Block – Kids menu half price. Any burger chips and a can £4. Plus loads more deals!
Paperchase 3 for 2 offer on selected products for college/uni students
San Lorenzo – Early diner, 3- 7pm two courses £16.95
Tim Hortons – Breakfast for £1.99 before 11am including any main breakfast meal, a small hot drink or orange juice and a hashbrown
The Grill on the Square – Early diner, 3 – 7pm £19.95