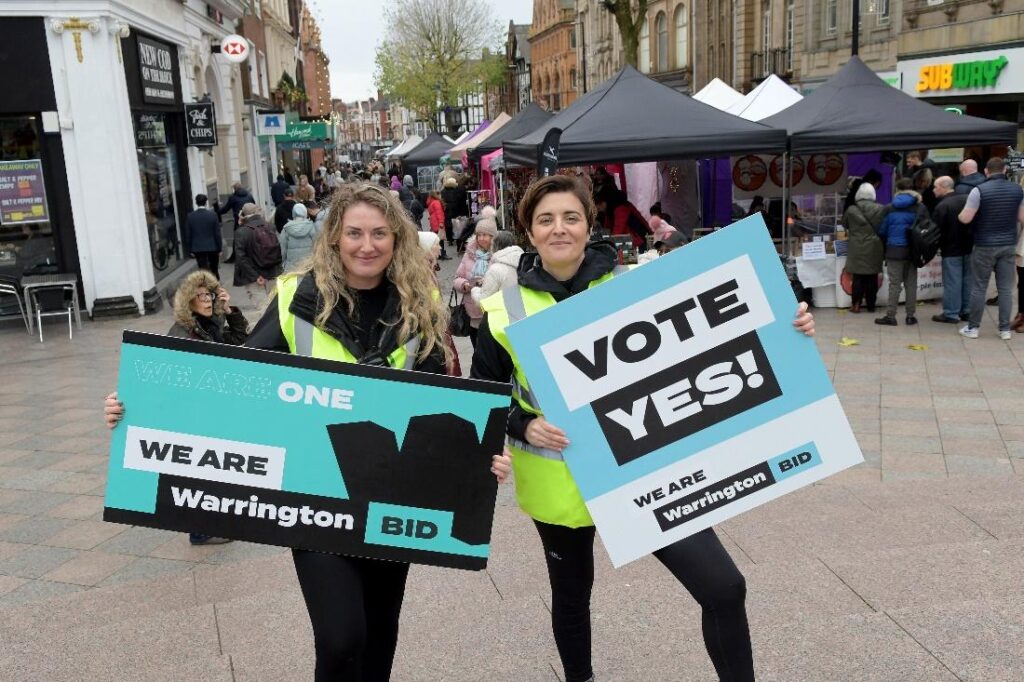 Warrington businesses vote YES for a 2nd term Town Centre Business Improvement District
Warrington businesses have voted in favour of having a 2nd term Business Improvement District (BID) for the town centre between 2023 and 2028.
Voting commenced on 19th April and closed on 18th May. More than 300 businesses had the opportunity to approve or reject the 5 year £1.5million private sector led investment for Warrington town centre, with a majority (80%) approving the 2nd term BID, an increase in support from 68% when the ballot was held for the town centre's first BID in 2018.
Re-approving the town centre BID will enable businesses to lead on a wide range of activities, additional projects and services that will make Warrington town centre more economically vibrant, increase footfall and support the creation of a safer, cleaner and greener town centre.
Warrington's business community join over 300 city and town centres across the UK who have chosen to implement successful BIDs since 2005.
Ian Cox, Centre Director of Golden Square and Deputy Chair of the BID, said
"This is a great result. The 'Yes' vote empowers businesses and creates a more vibrant and diverse visitor experience for all. Working together to improve marketing, events, transport, cleansing and security will make a massive difference to our town centre and the business community".
Cllr Tom Jennings, Cabinet Member, Warrington Borough Council, added:
"This result is a clear endorsement of the existence of a Business Improvement District and the overall economic health of our town centre. BID1 has achieved so much under difficult circumstances over the past few years, this ballot demonstrates the inherent attitude of our town centre businesses and unlocks further opportunities to enhance our town centre offer as a great place to work, live, shop and entertain."
Greville Kelly, Director from Groundwork CLM who manage the BID added
"The result achieved in Warrington today builds upon the great work of a team of dedicated staff from Groundwork over the last seven years, most recently Andrea Morley, Jane Hough and Amy Dawber who have all worked tirelessly to make the case for a 2nd term BID here in Warrington town centre. Groundwork is looking forward to continuing our work with the Warrington business community, changing places and changing lives for the better across Warrington town centre."