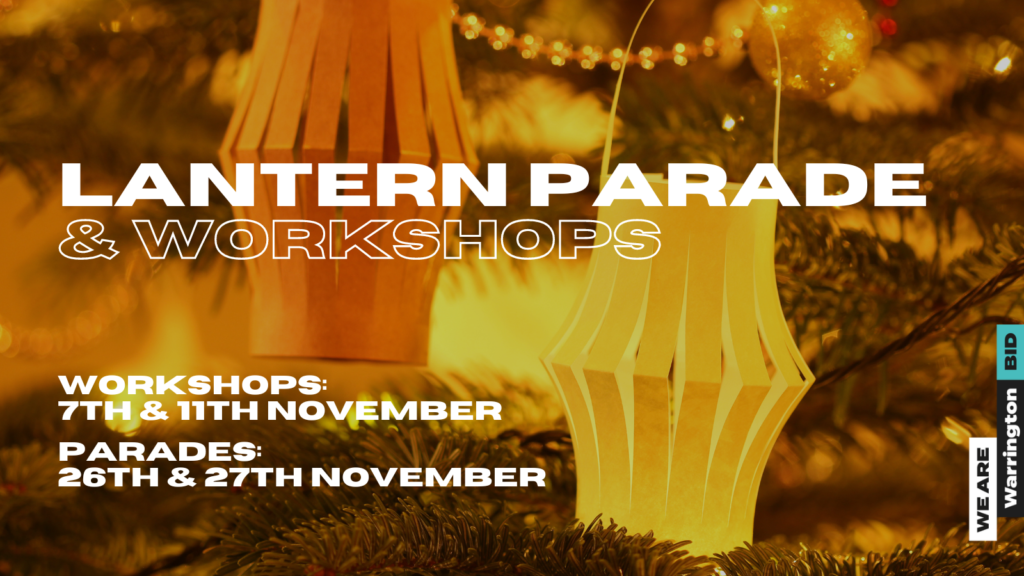 Remember remember the 26th and 27th November…
You're invited to a cracker of a weekend in Warrington on 26th and 27th November, as town centre businesses host a fabulous festive fun weekend – Santa Claus will be coming to town – make sure you are too!
There will be something for everyone across the two days, including a Christmas artisan market along Bridge Street and Market Gate, Christmas choirs, the 'At No 25' Christmas place where every morning is Christmas morning, and the centrepiece of the weekend; a lantern parade to the Town Hall led by a Brazilian drum band where you'll be treated to a spectacular after dark light & sound show. There are so many things to get you in the mood for a fantastic festive season – and most of the events are FREE.
The preparations are already underway, and YOU can join in by making a lantern ready for the parade. If you're looking for something to entertain the children after school next week (or yourself!), join us at one of two free lantern-making sessions at The Old School Project on Fairfield Street, WA1 8AJ.
This beautifully restored building is an important community resource and will be hosting lantern-making workshops on the 7th and 11th of November, from 4.30 pm to 6.30 pm. Booking is essential, so please email [email protected] to reserve your space – all the lanterns will be stored safely and ready to collect on the 26th. But fear not; if you can't make it next week, you won't miss out, as there will be other lantern-making workshops on the run-up to Warrington Weekend Wonderland and on the day of the parade.
From 5:15 pm, with your lanterns lit, the Parade will march from Marketgate to the Town Hall with Father Christmas and sleigh to the beat of the Brazilian drums. At 6 pm, you'll be treated to a 20-minute light and sound projection film, where the Town Hall will become an illuminated winter wonderland.
You will NOT want to miss this. The film will continue on a loop until 9 pm on the 26 & 27 November. All of this festive fun is brought to you by Warrington Business Improvement District (BID) and partners, Culture Warrington, Golden Square, the Warrington Lions, Community Objectives and Independent Street.
The fun and frolics will start on Saturday, 26 November, from 10 am – 7 pm and recommence on Sunday, November 27th, between 11 am and 5 pm.
Let us know if you're interested on Facebook. Find out more here.