The annual event arranged by Warrington Ethnic Communities Association (WECA) returns to Palmyra Square on Sunday 17th September 2023. Originally started in 2011 as a small community festival, last year's event in Queens Gardens on Palmyra Square attracted over 2,000 people and hopes to be bigger than ever this year.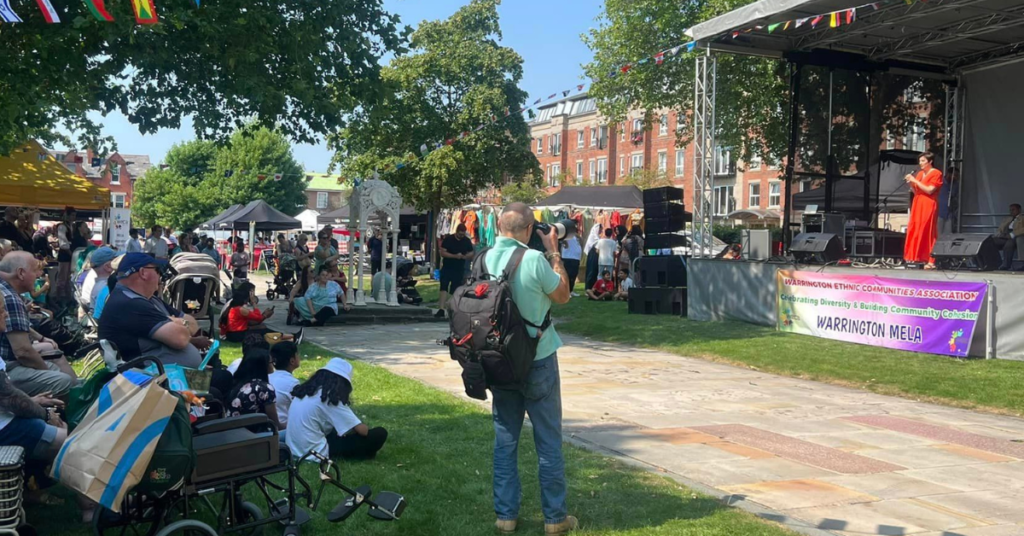 With a mission statement of 'Celebrating Diversity and Bringing Communities Together', MELA is a free family fun day celebrating our town's diversifying economic and social development, bringing people together from different cultural communities across Warrington, Cheshire and the North West.
The event is run by volunteers and will include stalls with information and support on matters including volunteering, apprenticeships and employment. Local authorities, including the Police and Fire Service will be on hand to provide a friendly point of contact with information and advice, not forgetting a chance for little ones to dress up and sit in their vehicles.
Last year, the main stage provided the ideal backdrop for performances including Chinese lion dancers, Bollywood singers, Polish krakowiak, Bhangra dancers and South Indian drummers and many more. There was magic henna tattooing, a wonderful parade of colourful costumes and national dress and the tantalising aroma of world food, freshly prepared for you to enjoy. As well as the great performances, last year saw fairground rides, games and stalls like hook-a-duck for the younger children and an ice-cream van (payable locally). All will be returning for 2023, and if you are a community group in Warrington wishing to take part, you can contact Warrington Ethnic Communities Association for more details. It would be fantastic to have all of our ethnic groups represented. https://www.weca.org.uk/contact-us
The name MELA comes from the word MILON, used by many people of South Asian origin as a word for celebration; Warrington's MELA is certainly a celebration of people coming together and enjoying each other's culture, customs, food, and dance.
We're looking forward to this event and will bring you more details as and when they're announced, or give their Facebook page a follow for more details of the event.