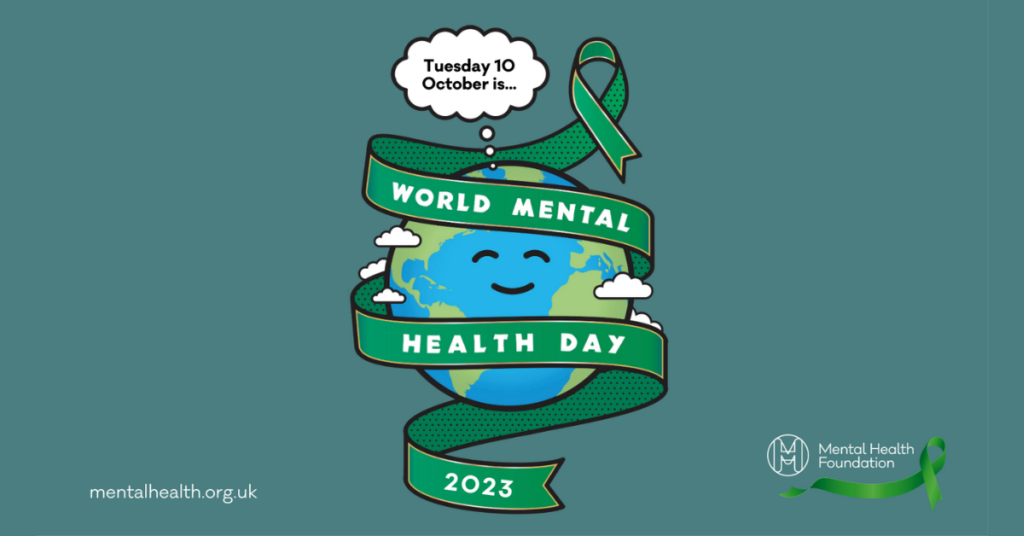 Warrington is a town built on strong community foundations, and today's blog looks at what Mental health initiatives are available to our community, in the Town Centre.
It's important to start this blog with a reminder; anyone can struggle with mental health, no matter their age, gender, job and living situation and the signs that someone is struggling may not always be obvious. It can sometimes feel scary to start a conversation about mental wellbeing, either if you are struggling with your mental health or if you are concerned for the well-being of another.
For a comprehensive list of support, click on to the Happy? OK? Sad? support directory on Warrington Borough Council's website https://www.warrington.gov.uk/happy-ok-sad/hos-directory and for urgent care, please phone 999 or visit Wakefield House who are open 24 hours a day https://www.merseycare.nhs.uk/our-services/warrington/recovery-team
Speak Up
Get Warrington Talking is a local initiative, supported by Registered Charity (1158888) Warrington Speak Up, who aim to end the stigma and discrimination around mental health in Warrington. They offer many community initiatives including PAUSE, a community mental health listening space which runs three days a week either as a drop-in session or for pre-booked appointments from their Sankey Street Hub. A non-clinical, non-judgemental listening space, you'll find them in The Gateway Centre opposite the Town Hall gates.
They also offer events such as Soup and Chat, Walk and Talk, Supper Clubs and much more besides. Furthermore Warrington Speak Up promotes social inclusion, equality and social justice and their website contains a wealth of helpful information. From self-help with mental health to advocacy (helping you speak up about what is important to you, whether in the community, in hospital voluntarily or detained in hospital under the Mental Health Act), click here for more details: https://www.warringtonspeakup.org.uk/get-warrington-talking/
Life Time Gateway
Also based in The Gateway on Sankey Street, you'll find Life Time who offer age-relevent advice, training, social events, all important when looking after your mental health. Funded by Warrington Housing Association, they offer over 50 weekly sessions to keep people active and connected in later life.
NHS Talking Therapies
With one in four people experiencing mental health challenges in their lives, NHS Warrington Talking Therapies, part of the national NHS Talking Therapies, offers a self-referral programme to tackle anxiety and depression. Anyone can suffer with poor mental health, it does not discriminate and you do not choose it, there is help out there for you. If you are aged 16 and over, are registered with a Warrington GP and are experiencing a mental health difficulty which is affecting your daily living, employment or health, then NHS Warrington Talking Therapies may be of benefit to you and you can find out more by clicking here.
Warrington Youth Zone
With the many pressures facing our young people in today's society, Warrington Youth Zone on Dallam Lane offers support ranging from children and young people facing a number of issues including anxiety or depression, bereavement, exams stress, LGBTQ+, loneliness, money and debt, self-harm, social media and mental health, Special Education Need and Disability (SEND) and suicide. For more details click here:
www,warringtonyouthzone.org/youth-in-mind
St Joseph's Family Centre
Based on Museum Street, registered charity 1180172 St Joseph's Family Centre support families and individuals in need. Their mission statement is simple; "Supporting families and individuals in need" and they do just that with a range of services including counselling for children and young people, working closely with CAMHS they're an enhanced accredited Child Contact Centre.
They offer counselling for adults, accessed through your GP Single Point of Access or Talking Matters Warrington (see paragraph above) and St Joseph's can also offer emergency food, children's clothing and bedding. For more details click here.
Making Space
Making Space is a National registered charity (512907) with a community reach right here in Warrington. They offer a host of advice and support, from Cognitive Behavioural Therapy (CBT) to support for those living with Dementia, to supporting Carers and older people and much more. For more details on the services they provide and how it could help you, visit https://makingspace.co.uk/services/mental-health
Offload
Warrington Wolves Foundation is one of the town's best kept secrets, sharing stadium space with Warrington Wolves Rugby League Club and offering a whole host of community activities and projects. One of these is Offload, the men's mental health initiative which is self referral, and a talking support group for men aged over 18. It's on Tuesday evenings at 6.30pm at the Halliwell Jones Stadium. Talking saves lives, Offload saves lives. For more details email [email protected].
Warrington matters
Remember anyone can struggle with mental health, and taking the first step in starting a conversation about mental wellbeing is often the most difficult.
You matter.