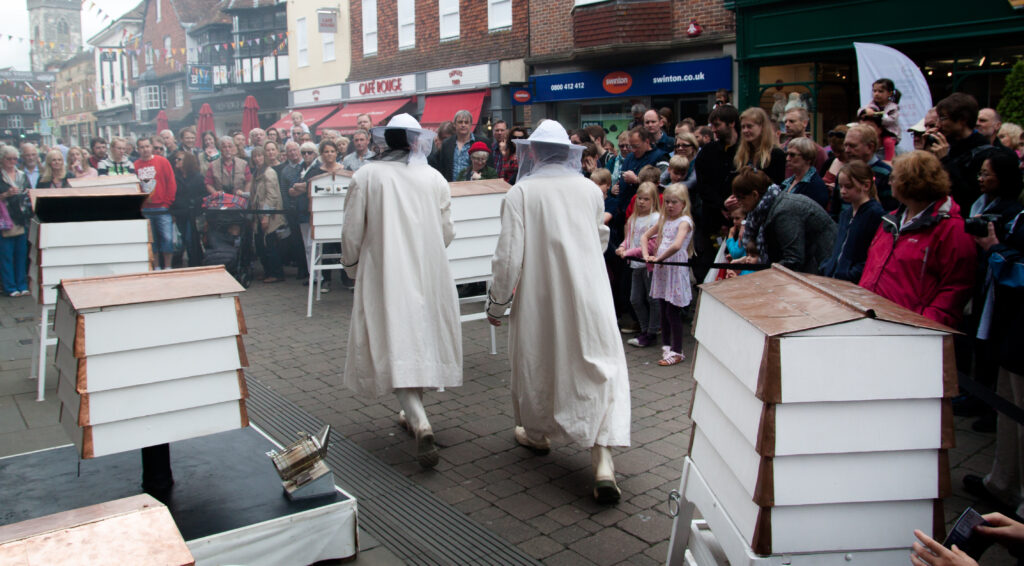 This Saturday marks the end of the extremely popular Welcome Back Festival, which welcomed thousands of families back into the town centre during the summer.
The world's largest Bubbleologist, art piece The Bees, and spin painting with Splodge-a-matic are among the attractions for the cultural extravaganza's last day.
Old Market Square is open from 11:30am to 1pm and again from 1:45pm to 3:15pm. The Bees is an art piece that transports you into a new and surprising interior world by spreading fragrant smoke from a collection of buzzing colonies. Audiences may stroll through the hand-made beehives in this beautiful event, which is accessible and entertaining for both children and adults. Each distinctive interior, which was originally sponsored by Arts Council England, may be experienced in a new, unique, and multi-sensory way — you might find yourself gazing into space, or enticed by a telescopic swarm rising into the air. Those who are frightened of bees should not be concerned, as the event will not include any live bees.
This Saturday, the world's tallest Bubbleologist will be performing his incredible variety of bubble stunts at the Old Market Place in Golden Square. Tall Will the Bubbleman will thrill audiences of all ages with a variety of fascinating bubbles, including bubble sculptures, smoke bubbles, fire bubbles, and more!
The Guardians Splodge-a-matic will also be a must-see from 11am to 3pm, with adults and children urged to try out the remarkable cyclo-graphic spin painting machine, which will be powered by an exercise cycle. By dropping paint onto a huge canvas that rotates like a record player, budding Splodgaters may create a spin painting on paper, card, canvas, or t-shirts.
In the meantime, whilst we wait for this Saturday, here's some highlights from the fantastic events that took place in our very own Time Square;
Worldwide Local, an initiative supported by the Arts Council, has curated a global music programme.
Fairly Famous Family's funny, interactive tennis tournament, complete with live commentary, slow motion replays, and a fancy umpire
Paperwork Theatre devised Twisted, a digital narrative experience that turned the town centre into a magical realm
The Divine Company, with their gorgeous and fascinating stilt walking and dance figures, wowed the crowd
Storytelling sessions and drop-in craft activities for young people to get involved throughout the event dates
The three activities will take place in Golden Square's Old Market Place, we will be announcing times on the We Are Warrington website for any further information to keep you in the loop. This isn't one to miss and we can't wait to see you this Saturday.