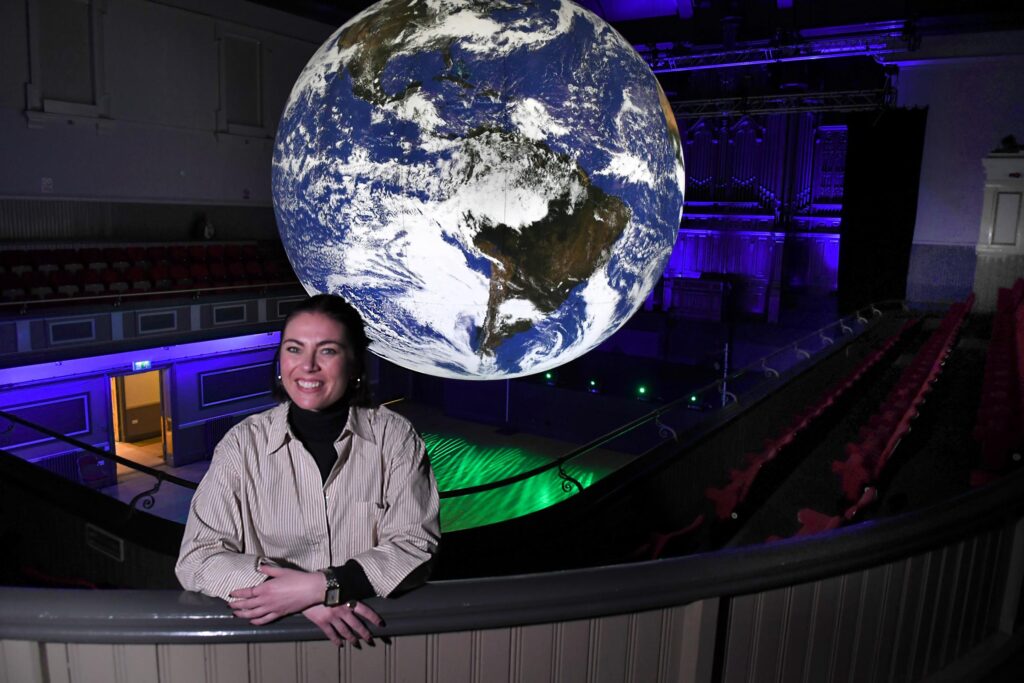 So, who visited the phenomenal Gaia exhibition based at the Parr Hall this month? Over 8,200 people flocked to the ironic venue between 6-10 March, where Culture Warrington's technical team shared with us the experience of seeing our planet in all its glory, right on our doorstep.
Gaia, which is an imposing 7m in diameter, followed in the giant leaps of Luke Jerram's Museum of the Moon which also came to Parr Hall back in October 2019 for Warrington Contemporary Arts Festival.
Leah Biddle, Cultural Manager at Culture Warrington, said: "Presenting Gaia at the Parr Hall means that we can welcome visitors to see this beautiful installation, make a positive impact locally as well as hosting a programme of environmental events that will cater for all ages."
There were also several events taking place in the shadow of the 'GAIA' over the five days it was present at the Parr Hall.
Independent Street Markets hosted a sustainable outdoor market on Queens Garden on the Sunday. Over 50 artisan stalls are set up in the blue skies and sunshine to showcase their sustainable products from 11am to 10pm.
Lisa Cowley, Founder of Independent Street said "It was fabulous for Independent Street to be asked to showcase our market alongside GAIA. We had a really great time and were very blessed with the weather. We love coming to Warrington and as always, the people were so welcoming"
The programme also saw Stronger Together – an Arts Council supported, and environmentally-themed contemporary dance production choreographed by Stacey Atkinson.
A cohort of 38 professional and community dancers and undergraduate dance students from Salford University performed beneath Gaia.
Local artist, Cameron Brown led a drawing workshop under Gaia. The event brought back memories for the Warrington artist who won Art Battle Manchester under Luke Jerram's Museum of the Moon in the same venue at the Contemporary Arts Festival 2019.
GAIA has given people and businesses a renewed sense of responsibility for taking care of the environment. The Warrington community have gained more awareness and consideration as to how they can adapt and change their way of living.

We can all make a positive impact by coming together, being united and being 'stronger together' to protect #OurWarringtonOurWorld – If you are inspired to combat the climate emergency, and help Warrington to be carbon neutral by 2030.