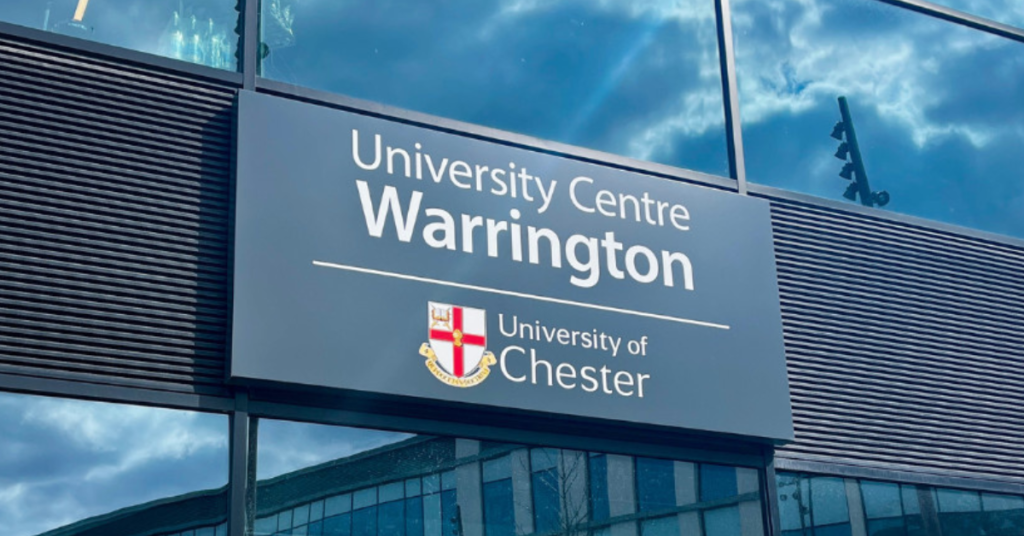 So you've got your A-level results and are in your first choice of the fantastic state-of-the-art University Centre Warrington. What can you expect from your new home town?
A warm welcome
First, a warm welcome, and we think you've chosen well. We're a friendly, sociable bunch here in Warrington, and we're delighted to be your home from home. What does Warrington offer, whether you're moving here from another town or travelling in as a day student?
Nightlife
We think there's something for everyone in Warrington; whether Ten Pin Bowling, a multi-screen Cineworld right next to our Time Square Campus, or if you're looking for the perfect place to eat, drink and play, Warrington has it all. There's our award-winning market with over 50 independent traders and food and drink outlets, Comedy Nights at the Market Cookhouse or The Comedy Store at the Parr Hall, also home to a wealth of theatre, music and events. 
We have digital darts at Gravity Social in Time Square, and immersive theatre at The Pyramid Centre. There's a fantastic Museum and Art Exhibitions and our great Golden Square with many local, national and international retailers. There are independent food places like Italian Caffe Caruso, Mamars, and Vandal up to big chains like Nando's, plus plenty of bars, including Wetherspoons, Feathers, Friars Court, The Grand, Blue Bell, 9Gallons, and White Hart, to name just a few.
Daytime and park life
There's a comprehensive library at the University, and in the town too. We have parks, squares and a fantastic town hall in glorious gardens. We even have a climbing wall set in a converted church.
We host Creamfields, Neighbourhood Weekender, Symphonic Ibiza and Warrington Pride in The Old Marketplace. There are incredible open spaces at Bank Park and Victoria Park, home to running clubs, tai-chi, athletics, and a skate park. And of course, this is Warrington. We're also famous for our…
Rugby League (is life)
Home to the Warrington Wolves in the Halliwell Jones Stadium, a mere 10 minute walk from the town centre. If you've never been to watch a rugby game before, make this the year you do, with ticket offers from just £10. Give them a follow on their socials for the up to date offers and fixtures. But it's not all Rugby; we have a thriving amateur football league, competitive netball, basketball, and many local cricket clubs. Warrington is simply sport mad, and sports are a great way of making new friends in your new town.
Student life
Recently voted in the Top 5 in the UK for Halls and Student Accommodation in the 2023 Whatuni Student Choice Awards, we have links with local private sector accommodation providers. We will soon have our brand new Halls we can offer students. For more details, email [email protected]
There are plenty of supermarkets to stock your uni cupboards from, including Asda, Tesco, Aldi, Sainsbury and Lidl, all within easy walking distance of the town centre. We have town centre gyms and yoga classes and, a little further afield, gyms and pools with our wonderful Live Wire Fitness. There are dance classes, bingo, free concerts, Warrington MELA,  and Christmas Markets; you'll always find something going on, so why not sign up for our newsletter?
The next stage of your life
There are many opportunities to apply for jobs, whether in the retail or entertainment sectors and more. One thing we love about University Centre Warrington is how welcoming it is.
During your first few weeks at the University, they'll be holding lots of exciting events to introduce you to the University and allow you to meet some of their teams. There will also be lots of opportunities to meet and socialise with other new and current students, and there's also a whole wealth of information and meetings online to help you settle in, feel at home and look after your mental health, including the fantastic Shoutout app.
You'll find the Umii app a helpful addition; it works like a dating app. You fill in your profile, including your course and interests, and the app will then work its magic and send you three possible friend matches every day. The app matches you to possible friends by looking at your data and then pairing you up with other students who have similar interests or are on the same/similar course.
When you receive your matches, it's up to you what to do next – you can either reach out and start a conversation or wait and say hello on a different day. There's absolutely no pressure.
Warrington life
It's easy to get to. We're on the West Coast mainline at Bank Quay station, which means we're under two hours from London and just three away from Glasgow. Plus, we have excellent train links to Chester, Liverpool, Manchester and beyond through Warrington Central station. We're also within easy reach of the Motorway networks and have our fantastic fleet of electric buses for getting around town, making it easy for you to get to us.
We hope this blog has excited you for the next exciting phase of your life at University Centre Warrington, and we can't wait to see what you go on to achieve in our town. It's a pretty special place.